"When I finished watching that movie, I literally had to breathe," Winfrey told reporters at the Toronto Film Festival. "I didn't cry until the card came up with 'For Precious Girls Everywhere.' And that hit a nerve. And I recognized myself in that character. Most of all, I recognized that I have seen the Precious girls of the world and they have been invisible to me."
According to Perry's Web site, he and Winfrey are donating their profits from the film to charity.
Meanwhile, Perry and Winfrey, along with Daniels and the cast, hit the festival circuit, where they racked up several awards and spoke about the process of being transformed for this bleak and ultimately heartwarming drama.
Carey had to leave her pop diva persona at the door. "I brought in all my wigs for the character and (Daniels) was like, 'No, it's not happening,'" she told reporters at the Toronto film festival.
Makeup-less, her hair mousy brown and limp, with a faint mustache above her upper lip, Carey was nearly incognito as Ms. Weiss, a tough-love social worker. She even adopted a Long Island accent for the role.
Though she's in only a few scenes, Carey has one of the most intense moments, a meeting with Precious and her mother, in which she probes Mary about how she allowed the abuse to occur.
"My character is not really a likeable person, but she does bring this to the surface. I had to really stay strong as an actor and I had to thank Lee for giving me that chance and letting us really be free with that scene," Carey said in Toronto. "I feel like it was a great chance for me to exercise and me to work and I feel like we connected on such a level. We were crying between scenes. It was emotional for us."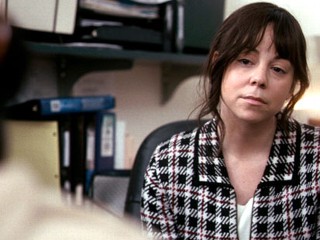 Kravitz didn't have to work as hard to transform himself into John, the male delivery room nurse who befriends Precious. Without his rocker's edge, he's quite believable as John.
No stranger to casting musicians, Daniels, who calls Kravitz one of his best friends, plans to work with Kravitz again.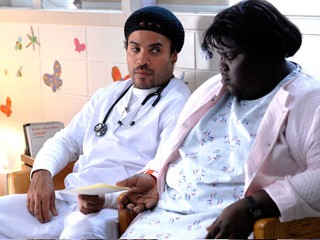 "He's going to be working with me on the next thing that I'm doing," Daniels told Rolling Stone about a musical he has in the works. "So I thought it was a way for him to see how it was that I worked.... And I think that this movie with Lenny will prepare me and him to work together better on the next movie."
"View" co-host Sherri Shepherd has a light moment with Kravitz's character in the film, but for the most part, the comedian plays it straight in this drama, though it was a stretch for her.
"Lee Daniels called, and I auditioned for that part," Shepherd recalled in a Los Angeles Times interview. "I came in and improvised my scene and made Lee laugh, like he was cracking up, but then he came over and said, 'I don't want anything funny. You are a woman in pain. People know you for all your teeth, and your smile and those boobs -- I don't want any of that.'"
"I said, 'Lee, I don't know how to do anything else!' But he pushed me, and thank God it worked."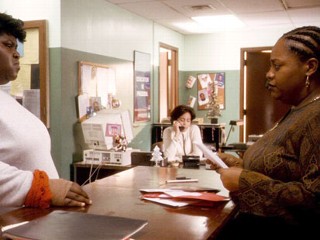 Another funnywoman, Mo'Nique, known for her bawdy humor, turned brutal in her portrayal of Mary, Precious' mother.
The comedian recalled for a reporter at the Sundance film festival in January what Daniels said when he first called her about the role. "Mo'Nique, this could f*** up your career." I said, 'Sign me up,'" she said.
"He said, 'I need you to be a monster,' and that was it: 'Be a monster. I need people to hate that character,'" she continued.