Emeril's Chickpea Salad with Tabbouleh
A Nice Vegetarian Salad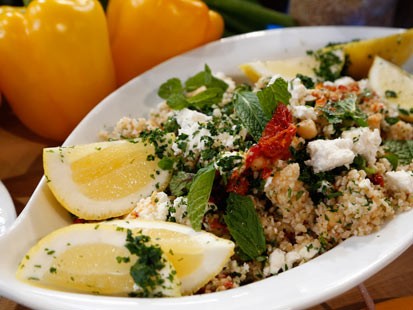 From the kitchen of Emeril Lagasse
|
Ingredients
1/2 cup bulgur wheat
1 cup hot water
1/2 cup chopped green onions, white and green parts
1/4 cup chopped fresh parsley
1/4 cup chopped fresh mint
1/4 cup diced oil-packed sun-dried tomatoes
1/4 cup plus 2 tablespoons freshly squeezed lemon juice
2 teaspoons minced garlic
1 teaspoon fine sea salt
3/4 teaspoon crushed red pepper
3/4 cup extra-virgin olive oil
1/2 cup (about 4 ounces) crumbled feta cheese
Two 14-ounce cans chickpeas, rinsed and drained
Cooking Directions
Place the bulgur in a mixing bowl, add the hot water, and set aside to soak for 25 minutes.
While the bulgur is soaking, prep the remaining ingredients. Combine the green onions, parsley, mint,
sun-dried tomatoes, lemon juice, garlic, sea salt, and crushed red pepper in a medium bowl. Gradually
whisk in the olive oil.
Drain the bulgur, squeezing it to remove any excess liquid, and add it to the herb-tomato
mixture. Fold in the feta cheese and chickpeas. Taste, and adjust the seasoning if necessary. Serve at room temperature or chilled.
Recipe courtesy Emeril Lagasse, from Emeril 20-40-60: Fresh Food Fast, HarperCollins Publisher, New York, 2009, copyright MSLO, Inc., all rights reserved
This recipe was styled by chef Karen Pickus for Good Morning America.
Other Recipes That You Might Like