Nana's Rum-Laced Brownies
An Instant Hit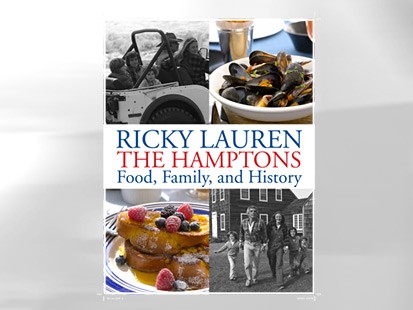 From the kitchen of Ricky Lauren
|
Ralph loved Nana's brownies so much that he offered to put a brownie department in his stores for her! That way he would not have to wait all the way until his October birth¬day when she would make another batch for him to savor and devour. David remembers how we treasured Nana's brownies so much that we rationed them in small morsels over as many weeks as we could stretch them! When my mother stayed with us in the Hamp¬tons, we were so happy that she made the brownies for us all summer long.
Ingredients
For the Brownies
1 cup (2 sticks) salted butter
6 ounces unsweetened chocolate
3 cups granulated sugar
6 eggs
3 teaspoons vanilla extract
2 cups all-purpose flour
1½ teaspoons baking powder
Pinch of salt
1½ cups chopped walnuts
For the Glaze
6 tablespoons (3/4 stick) salted butter
4 ounces unsweetened chocolate
1/4 cup confectioners' sugar
2 teaspoons vanilla extract
Rum or brandy to taste
Walnut halves
Cooking Directions
Preheat the oven to 375°F.
To make the brownies: Grease and flour a 9-by-13-inch pan. Melt the butter, chocolate, and sugar in the top of a double boiler over simmering water. Beat the eggs with the vanilla. Sift together the flour, baking power, and salt. Mix all the ingredients together and stir in walnuts. Pour the mixture into the prepared pan. Bake until a toothpick inserted into the center comes out clean, 35 to 40 minutes. Allow to cool before frosting.
To make the glaze: Melt the butter and chocolate. Mix in all the other ingredients except the walnuts, then spread the frosting evenly on the cooled brownies. Cut into squares and decorate with the walnut halves. Refrigerate for 1 hour.
Makes 12 brownies
This recipe was styled by chef Karen Pickus for Good Morning America.
"Recipes from The Hamptons by Ricky Lauren are used by permission of John Wiley & Sons, Inc. Copyright © 2012."
Other Recipes That You Might Like