Richard Blais' Heart-Healthy Taco Night
A Heart-Healthy Family Dinner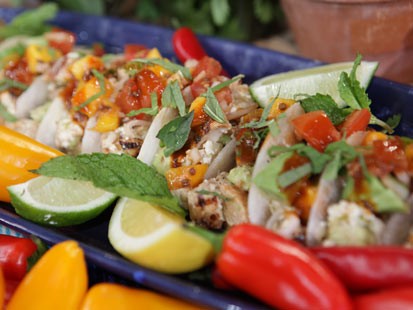 From the kitchen of Richard Blais
|
This heart-healthy meal can be made for your family without the guilt.
Ingredients
For the spicy hot low sodium salsa:
1 mango, peeled, seeded and chopped (about 1 1/4 cups)
1 medium tomato, chopped
1 medium onion, diced (about 1/2 cup)
1/2 ounce toasted cumin
1/2 ounce toasted coriander seeds
1 ounce fresh cilantro leaves, chopped
1/4 cup Spicy Hot Low Sodium Vegetable Juice
For the tacos:
1 ¼ to 1 ¾ pounds skinless, boneless chicken breast halves (4 ounces each), cooked sous vide (to 145° F.) with 2 ounces adobo chili sauce, then lightly grilled and chopped
4 ounces fresh feta cheese, crumbled
1 cup tomatoes, chopped
1 small, ripe avocado, pitted, peeled and chopped (about 2 ounces)
2 ounces pickled, marinated in balsamic vinegar, chopped shallots
½ teaspoon fish sauce
1 squirt fresh lime juice and zest
8 flour tortillas (6-inch), warmed or 8 similar sized sheets shaved jicama
1 ounce fresh mint leaves, chopped
1 ounce fresh Thai basil leaves, chopped
2 ounces fresh cilantro leaves, chopped
For the mango sorbet:
2 cups Peach Mango 100% Juice
1/4 cup Lyle's Golden Syrup or light corn syrup
2 quarts liquid nitrogen
Cooking Directions
For the salsa, stir the mango, tomato, onion, cumin, coriander, 1 ounce cilantro and vegetable juice in a medium bowl. Set the mango mixture aside.
For the tacos, stir the chicken, cheese, avocado, shallots, fish sauce and lime juice and zest in a large bowl. Divide the chicken mixture evenly among the tortillas, spooning the mixture down the center of each tortilla. Sprinkle evenly with the cilantro, mint and basil. Fold the tortillas around the filling. Serve the tacos with the mango salsa mixture.
For the sorbet, whisk the juice and syrup in a large bowl. While wearing gloves and goggles, pour a small amount of liquid nitrogen into the bowl and whisk while slowly adding the remaining liquid nitrogen until desired consistency. Allow any excess liquid nitrogen to "boil off" before serving the sorbet. (Can also be made in an ice cream freezer at home)
Nutrition Information (with Jicama Shells): 310 Calories, Total Fat 8g, Saturated Fat 3g, Trans Fat 0g, Carbohydrates 31g, Cholesterol 80mg, Sodium 370mg, Fiber 5g, Protein 29g, Potassium 700mg, Vitamin A 40%DV, Calcium 15%DV
Nutrition Information (with Tortilla Shells): 380 Calories, Total Fat 10g, Saturated Fat 3.5g, Trans Fat 0g, Carbohydrates 43g, Cholesterol 80mg, Sodium 550mg, Fiber 4g, Protein 31g, Potassium 700mg, Vitamin A 40%DV, Calcium 20%DV
Other Recipes That You Might Like