Spanish Mackerel with Ramps
Rouge Tomate Spanish Mackerel la Plancha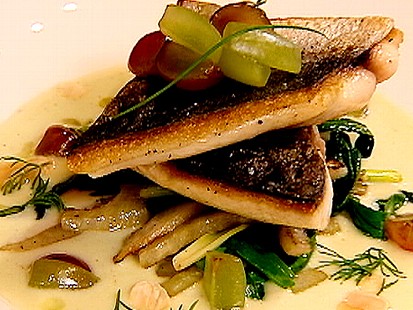 Epicurious and chef Jeremy Bearman's light but hearty fish dish.
From the kitchen of Jeremy Bearman
|
Ingredients
4 each 5 oz pieces spanish mackerel with skin
2 medium bulbs fennel
30 pcs ramp greens
4 cloves garlic degermed
2 cups cucumber peeled and diced
1 cup green grapes cut in half
1 1/2 cup stale sourdough bread diced
1/2 cup toasted sliced almonds
1/4 cup 0% fage yogurt
1/2 cup almond oil (olive fine if you don't have almond)
1/4 cup verjus (unfermented wine)
1/4 cup sherry vinegar
1/4 cup red grapes cut in quarters for garnish
2 tbsp toasted almond for garnish
1 tbsp fennel fronds (green parts of fennel tops)
Olive Oil for cooking
Cooking Directions
For the soup: Place the green grapes, cucumber, bread, garlic and almonds in a container. Season with salt and allow to marinate for at least 12 hours. Place the marinated contents into a blender with the verjus, yogurt, and almond oil. Blend on high until smooth. Pass through a fine mesh strainer. Season with the sherry vinegar and salt if necessary. Chill in refrigerator.
For the dish: Cut the fennel in half, remove the core and slice into 1/8 inch sections. Heat a saute pan on medium high heat. Add a about a tbsp of olive oil and saute the fennel until lightly brown. You will need to do this quickly so that you don't overcook the fennel and allow it to become too soft. Season with salt and pepper. Once the fennel has a nice color, add the ramp leaves and saute for about 30 seconds more or until the leaves wilt. Remove from the pan onto a paper towel.
On a hot plancha or in a saute pan, cook the fish skin side down, on medium heat until the skin is crispy and the fish is 80% white. Flip the fish over in the pan and continue cooking for only another 15 to 20 seconds. Usually these filets are pretty thin and cook very quickly. To get a moist piece of fish, the filet should only be cooked on one side until the last minute.
Assembly: Place a 1/2 cup of chilled soup in each bowl. Place the sauteed fennel and ramps in the center while still warm and place the fish on top, skin side up. Garnish with the red grapes, toasted almonds, fennel tops and a drizzle of almond or olive oil. Serve immediately. You will probably have some soup left over. You can enjoy this as a soup as well without the fish by just garnishing with the grapes, almonds and the fennel tops.
Recipe Summary
Main Ingredients: spanish mackerel, fennel, ramps, garlic, cucumber, grapes, sourdough, almonds, yogurt, verjus, vinegar,
Course: Side Dish, Appetizer/Starter, Brunch, Dinner, Main Course
Other Recipes That You Might Like