Jamie Oliver is no longer just an English "bloke" with sweet sneakers and a wedge hair cut. Jamie Oliver is a global brand.
A simple show called "Jamie at Home" in which he, well, cooks at home, now airs in 108 countries. What began with a cookbook has become a publishing empire, a magazine called "Jamie" and lines of "Jamie Oliver" kitchen paraphernalia.
Oliver's reluctant realization of his brand status, and ultimately his embrace of that status, has propelled him to a new level of chefdom. He's become a campaigner.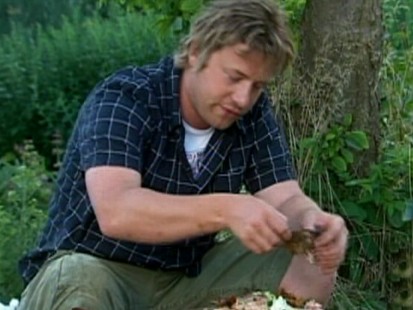 "I'm a pain in the arse with a lot of people," Oliver told me at his London headquarters. He actually says "arse." You can take the boy out of England, but you can't take England out of the boy.
And he's a very successful pain in the arse. His first foray was a TV show called "Jamie's School Dinners."
Half a Billion From the British Government
"When I started, this was only four years ago, when I started there was more requirements for dog food in Great Britain than there were for kids' food at school," Oliver explained. His show changed all that.
"Three days after the documentary went out, we got a commitment for 280 million pounds, so half a billion dollars," he told me, with pride but no arrogance.
Half a billion dollars from the British government to make school food better. How?
"You certainly need a primetime TV show," explained the now-seasoned campaigner. "That's the only way you do it in modern day life. If I didn't do 'Jamie's School Dinners' on primetime Channel 4 with 7 million viewers of a population of 60 million, you know, no chance."
And four years down the line, test scores for kids eating Oliver's new menu are up 8 percent, and sick days are down 15 percent.
Looking Out for Animals
He's now turned his attention to animal welfare. Last year, to demonstrate the life cycle of the chickens we eat, Oliver killed one live on television. Last month he inseminated a pig on live television. This is grim reality television. But it works. The weekend after "Jamie Saves Our Bacon" aired, the whole country sold out of ethically produced pork bellies and shoulders.
Unlike other chefs who preach organic, Oliver's message is egalitarian, not elitist. "How dare I!" he barks when I ask if he tells people to buy organic. "My job," he says, "is to give people information and they can do what they want with it."
He gives us the information, artificial insemination and all, about where our meat comes from and then leaves us to decide what we can put in our mouths with good conscience. And in these economic times, he suggests we buy the whole animal, the cheap cuts.
I was, in many ways, one of Oliver's first targets. I love eating and I like cooking, I'm just not very good at it. In the recipe testing kitchen at Jamie HQ, he teaches me to make a chicken with parmesan cheese wrapped in Parma ham. It's a manly affair that involves bashing the breast flat with a frying pan. And it tastes delicious. Fresh, flavorful and ready in five minutes flat.
As we talk I realize why he is so hugely successful. His recipes really work, he is infectiously passionate about food, and, well, he's a really nice "bloke."
If he wasn't all of those things we'd have told him to take a hike a long time ago.