Election 2016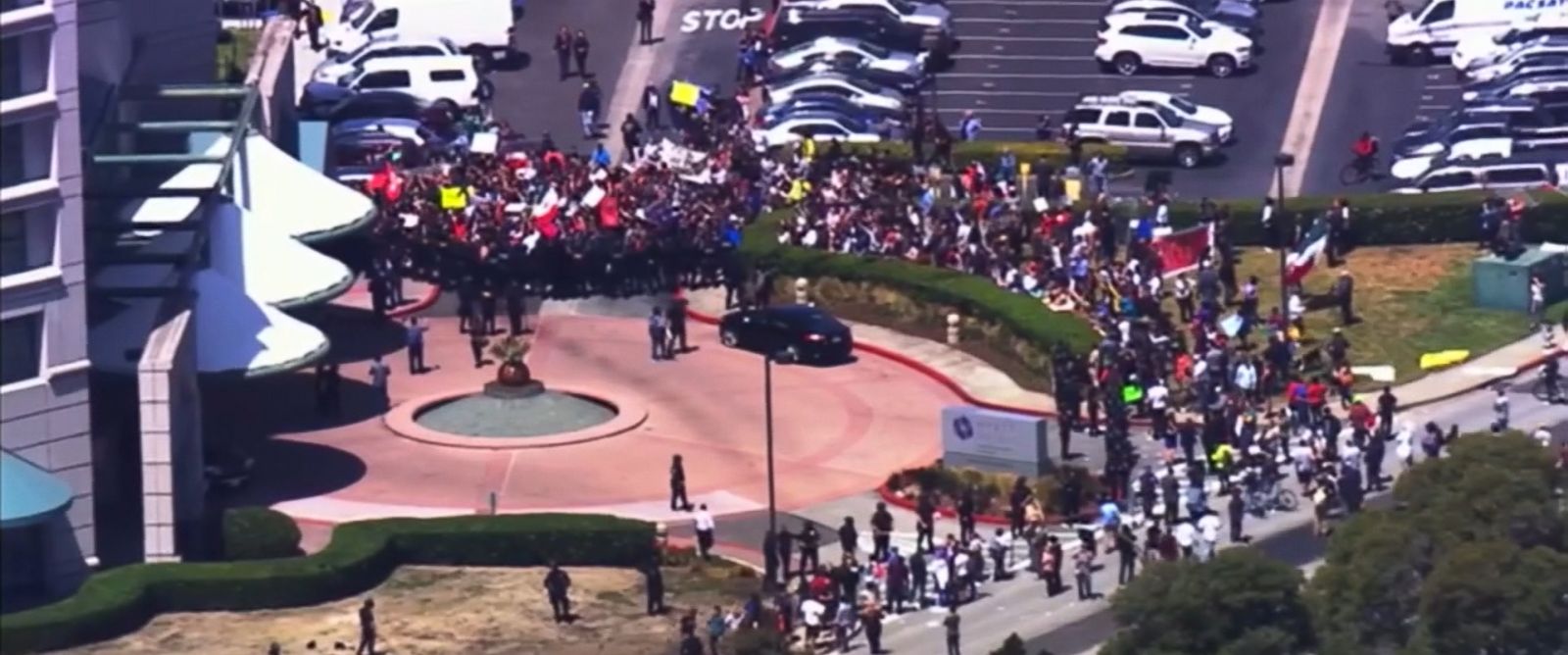 1.
Following Donald Trump's rally in Costa Mesa, California, last night, hundreds of protesters lined the streets, blocking cars leaving the OC Fair & Event Center, while others jumped on police cars. The Orange County Sheriff's Department said about 20 people were arrested, and there were no major injuries. There were nearly 200 officers outside the Trump rally, according to the Sheriff's Department. More from ABC's ALANA ABRAMSON, DAVID CAPLAN, JOHN SANTUCCI and BRIAN MCBRIDE: http://abcn.ws/1NYVd8G
2.
Donald Trump is being criticized by the Anti-Defamation League for repeating a slogan the group believes to be anti-Semitic. The ADL has taken issue with Trump's use of the phrase "America First" to describe his approach to foreign policy. The phrase was originally used by a group called the America First Committee in the 1940s, which pushed to keep the U.S. out of World War II. MORE: http://abcn.ws/1XYh1qN
3.
Indiana Gov. Mike Pence announced that he will be voting for Sen. Ted Cruz in the state's upcoming primary. "I'm not against anybody but I will be voting for Ted Cruz," Pence said on Greg Garrison's radio show today. "I see Ted Cruz as a principled conservative.... I'm pleased to support him." Before making his declaration, Pence noted that he had met with all three of the Republican presidential candidates, with Pence saying "I like and respect all three of the Republican candidates in the field." http://abcn.ws/23dlJ5h
4.
The list of people who have openly admitted to disliking Sen. Ted Cruz appears to grow by the day. The harder list to create is one of people who openly admit to liking Cruz. Apart from Carly Fiorina, whom Cruz announced as his vice president should he become the nominee, most of Cruz's high-profile endorsements have been tepid. http://abcn.ws/1SyTVH8
5.
This Week on 'This Week'
Ahead of the crucial Indiana primary, Sen. Ted Cruz comes to "This Week" Sunday. Then, Former Defense Secretary Robert Gates weighs in on the 2016 race and Trump's big foreign policy speech, only on "This Week." And, the Powerhouse Roundtable debates the week in politics with Washington Post columnist E.J. Dionne, ABC News political analyst Matthew Dowd, ABC News contributor and ESPN senior writer LZ Granderson, and ABC News contributor, Republican strategist and pollster Kristen Soltis Anderson.
Running Mates: Meet The Candidates' Other Halves
In Depth: The Latest ABC News-Washington Post Polls
The Latest in the Republican Primary
The Latest in the Democratic Primary